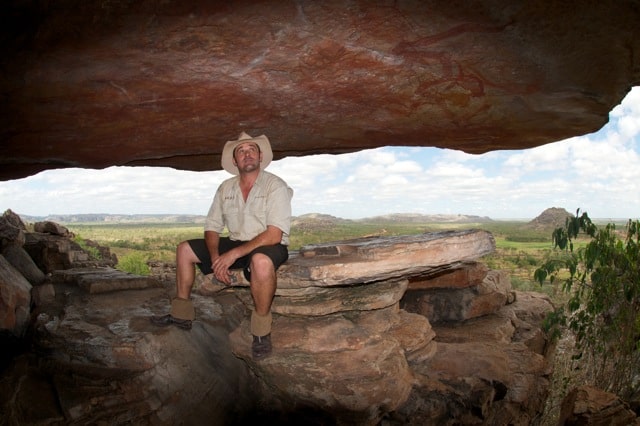 Hamish started Sugarbag Safaris so he could share his passion for this amazing and diverse part of Australia to all that travel with him. Known for his devotion to the environment and eclectic knowledge of the flora, fauna and culture of the Top End, Hamish is a Brolga Award-winning Eco-certified guide with over 20 years experience touring World Heritage-listed Kakadu National Park and the Top End of the Northern Territory.
" Whether your interest is bird watching, nature and wildlife photography, bushwalking, bush tucker, local history… or just soaking in all the Top End has to offer, Hamish's expertise will ensure you an in-depth experience like no other. Hamish is renowned for his commitment to customer safety, passion for the outdoors, and his sense of humour – as well as for cooking up a mean steak over the coals."
Yuki Hayashi, travel writer, Toronto.
We are just back from the 5 day/4 night camping safari with Hamish from Sugarbag safaris
Great itinerary which captured the highlights of the 3 National Parks .
Hamish... read more is the most super organized, efficient, and fastidious tour guide I have ever met ! His Land Cruiser vehicle is immaculate and the inner workings of his trailer etc is a lesson in experience and organization ! He is also a pretty good cook which is no mean praise from me ! Menu was varied and plentiful. Particularly enjoyed the lunches - plenty of meat, salad, cheese and bread to fill the hungriest of travelers.
Hamish also proved himself to be amazing in a crisis - he was calm collected, super kind and knowledgeable in the most stressful situation. For this we will be forever grateful.
Hamish also impressed me in his understanding of the complex social situations in the NT and provided interesting perspectives
His knowledge of the flora and fauna was immense and I learnt a lot of very interesting things
Hamish is a guide of great integrity and experience and I would recommend his trips for those wanting a genuine outback experience and don't mind getting a bit of dirt under the fingernails

More

bucketlistgrandma


August 29, 2019

My partner and I travelled with Sugarbag Safaris for a 3 day, 2 nights tour in Kakadu. Right from the first enquiry Hamish was very helpful and supportive and... read more determined what we would like to see and do. With the threat of instant border closures from COVID outbreaks, Hamish remained adaptable.

We travelled with Hamish at the start of the wet season and the weather was not always in our favour. Hamish remained easy going, relaxed and flexible and readily adapted to the changing conditions. Hamish was very knowledgeable about the local aboriginal lore and culture, very observant with the local flora and fauna, and is an overall great guide.

The tour was well organised and featured picnic lunches which were well catered.

My partner and I have no hesitation in recommending Sugarbag Safaris to anyone who is looking for a guided tour of the top end.

Bergfalke4


January 2, 2021

With Hamish and Sugarbag's small-group tours, we felt like we had Kakadu and surrounding parks to ourselves for 5 days. We found ourselves in the most amazing swimming holes, rivers... read more and waterfalls, hikes and lunch spots with not another soul around, seemingly always to be...More

michaelpiskun


June 26, 2019